Welcome to America's Boating Club®
Tacoma and South Puget Sound where our goal is to: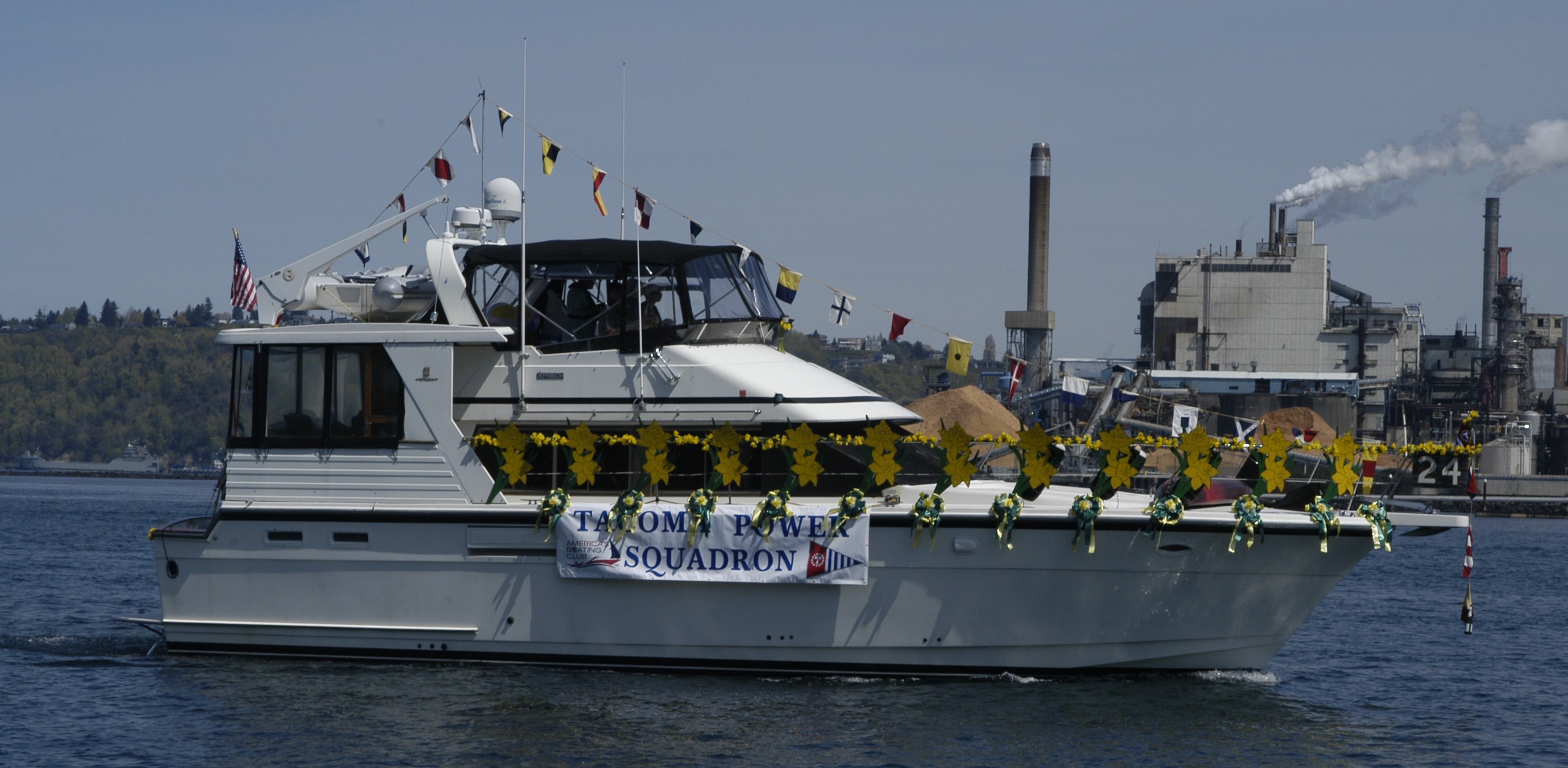 * LEARN Boating Skills

* ENGAGE with Boating Friends

* CONNECT with the Boating
Community

--NEW UPDATES--

---> P/C Gary Dildine's, Land Yacht Rendezvous on May 21st, 2022. Need to call ASAP to RSVP. See Wake Astern for details Wake Astern - May 2022 for details.

---> There will be a America's Boating Course class starting June 6, 2022.
If you need a Washington State Boater Education Card this is the perfect way to obtain one.

See --CLASS SCHEDULE--below for details


---
Thanks to Richard and Beth Stone for volunteering Barnacle Betsy for the Daffodil Marine Parade. Captain and crew did a fantastic job! A Big Shout Out for the decorating crew who did a Great Job.

Parade Slide Show and downloadable pictures are available at bottom of this page.

---
Special THANK YOU to all our new and past Bridge, Board and Committee volunteers.

---

---CLASS SCHEDULE---

America's Boating Club of Tacoma and South Puget Sound is offering America's Boating Course Starting June 6, 2022. Cost of the class is $40.

Class Schedule consists of 5 evenings (4, 2 hour classes (7- 9 pm), with exam on 5th class).

June 6, Monday, at Day Island Yacht Club

June 13, Monday, at Day Island Yacht club - June 16, Thursday, Zoom

June 20, Monday, at Day Island Yacht Club - June 23, Thursday, at Day Island Yacht Club (exam)

Go to this link to register Click To Register

For addation information emailt Bentley Rickmers at benric7@gmail.com


---BOATER EDUCATION CARD---

Are you one of the many recreational boaters in Washington required by law to complete an approved boating safety education course and carry a Washington State Boater Education Card ? If so, Tacoma Power Squadron America's Boating Course (ABC) instruction and testing fulfills the requirement to obtain your boaters card.

You are required to have a Boater Education Card if you fit the following criteria:
-- You operate a vessel with a 15-horsepower (or greater) motor.
-- You were born after Jan. 1, 1955.
-- You are 12 years of age or older.


---


MANY OTHER CLASSES ARE AVAILIABLE VIA ZOOM
Due to the social distancing to prevent the spread of COVID-19, there are numerous squadrons in the area conducting boating education classes via Zoom. Click the following link Course List to see the currently available scheduled classes.


Help Needed, we need a ABC chairperson. We have instructors. We just need someone to monitor the class and help proctor the test. Most instructors prefer to remain virtual. If you feel this is an opportunity you would like to do, please contact our SEO.
---
---SCHEDULED RENDEZVOUS---

The 2022 Rendezvous schedule has been finalized. Please note all specific reservations details.


---
Members and Guests check out our
Award Winning Wake Astern
for the most current squadron info.
---
-- VSC--- Schedule your safety inspection. Call/email your favorite inspector, or Susan Walker at 253-213-2850 or at sue98402@gmail.com. You can also schedule a VSC online by selecting the following link
Vessel Safety Check!
---
We are your club!
--- If you have any ideas for activities during our general meetings, other squadron events or education classes, please contact someone on our bridge.
---
If you are interested, or if you know of someone who might be interested in joining TPS, contact Jackie Mattox, (253)732-2264 or at jrgeezers@comcast.net
---
2022 Daffodil Marine Parade (may take a few moments to download)
To start move and/or see full screen, hover curser on picture and choose option.
---
All Parade High Defination downloadable pictures are available by selecting the following link to Google Drive.
Tacoma Power Squadron / Copyright 2022. Parade boaters and their clubs are free to copy
Click to access pictures
---